If you've ever bought a pillow or mattress in the United States, you may have noticed the tag that states, "Under Penalty of Law This Tag Not to Be Removed Except by the Consumer." This tag is known as a law label, and it is required on a variety of stuffed goods.
Are you planning to import bedding, car seats, sleeping bags, or other stuffed articles to the US? If so, it is critical that you learn about the law label regulations for your products and follow them.
That's why we recently sat down with an expert on the subject, Todd Johnston of Law Label Services, to get his perspective on how to ensure compliance. This article covers the key points we discussed, and it will help you understand the requirements for US law label registration.
What is a US Law Label?
A law label is a tag attached to mattresses, pillows, comforters, teddy bears, and other stuffed goods. It tells the consumer which filling materials are inside it — for example, down feathers, microfiber, or polyester. It also provides manufacturer details and other information about the product.
These tags exist because, in the early 1900s, manufacturers used all kinds of unknown and unwanted materials to stuff products. As such, states developed laws to help protect and inform consumers.
Which Products Require Law Labels?
Generally, any product with filling material that you sit, lay, or lean on requires a law label, including:
Mattresses, Foundations, Futons
Bed Pillows
Bicycle Seats
Children's Car Seats
Quilts
Sleeping Bags
Stuffed Toys
Upholstered Furniture
Many other stuffed products require these labels too, and the requirements vary by state.
What are the Law Label Requirements by State?
You may be unaware that labeling is a state requirement, not a federal one. Thirty-two states have specific labeling requirements, and 14 states have a registration requirement.
Essentially, importers need to include a law label that meets the requirements of all 32 states. They also need to fill out registration forms and pay fees in the 14 states where they are required. The following states have registration requirements.
California – CA
Connecticut – CT
Delaware – DE
Detroit, Michigan – DET
Massachusetts – MA
North Carolina – NC
New York – NY
Ohio – OH
Oklahoma – OK
Pennsylvania – PA
Rhode Island – RI
Utah – UT
Virginia – VA
West Virginia – WV
Additionally, if you are going to sell in Canada, know that the province of Quebec has a registration requirement too. Companies exist, such as our friends at Law Label Services, to help you print compliant labels and meet all registration requirements.
3 Other Things to Know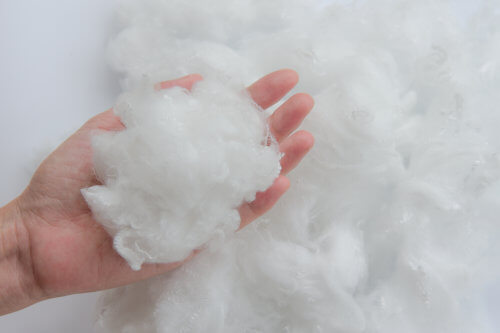 #1 Labels Need a Uniform Registry Number (URN)
A URN is assigned in any one of the 14 states that require registration. Upon registering in the first state, you will receive your URN — for example, REG. NO. CA-12345 (CN). You can then use this same URN for labels on items sold in all other states.
#2 Each of Your Manufacturers Needs to be Registered
The manufacturer is the facility that does the final sewing and enclosing of the product. Keep in mind that they must be registered in each of the 14 states. And if you work with multiple factories, each of them needs its own URN, which requires its own separate label.
#3 Law Labels and Registration are not Optional
If you are a manufacturer or importer of bedding, furniture, or other stuffed goods, you must include a label and register to sell in the United States. If you do not register in one of the 14 states, you cannot sell your products there. And if you violate labeling laws in a state that requires them, your product may be pulled from stores, and you may get fined.
Conclusion
If you are planning to import stuffed articles, do not skip the process of creating compliant law labels, registering, and paying the associated fees. There are various registration services, such as our friends at Law Label Services, who can help you get set up.
Ensuring regulatory compliance is a crucial part of being a stuffed-goods importer, and there are also other considerations aside from law labels. For example, depending on the specifics of your product, you may need to conduct laboratory tests.
We recommend downloading the guide below if you've been thinking about conducting lab tests. It will help you understand how to get the process started.
Lab Testing: How to Get Started
As a consumer product importer, lab tests help you ensure that your products are compliant with regulations in the country of importation.
We've put together this guide to help you get started with lab testing so that you can make your products available for sale sooner rather than later. Avoid fines and customs issues by starting off on the right foot.