For consumer goods importers, screening a new supplier takes a significant amount of time and energy.
Whether you're deciding to move away from a current supplier or you're choosing a supplier for the first time, it is important not to rush the process. A hasty decision can lead to lower product quality. And a bad reputation or poor product reviews can be difficult to bounce back from.
A factory audit is a tool that will help you make the best possible decision for your situation. It aids you in determining whether a manufacturer is actually capable of meeting the needs of your organization. And you want to know that they can do what they say they can do.
Below we'll provide a downloadable audit template, designed to assess a supplier's quality systems.
A factory audit can be tailored to meet your specific needs, for example, with a focus on environmental friendliness, social responsibility, security, or other concerns. Sections might be added or subtracted, as needed.
Let's talk about the different things we generally look at and the sections included in the standard quality audit.
Section #1: Facilities
The first section of the assessment focuses on facilities.
Is the plant layout generally acceptable? Is overall maintenance of the premises acceptable? Does the general housekeeping appear acceptable?
These and other questions are asked to get an understanding of the layout and circumstances at the facility.
Section #2: Quality Control System
Next, we focus on the supplier's quality control system.
Do they appear to have a formal internal quality control program in place? Is there a formal training program for QC personnel? Do they have a complete quality manual?
Asking questions like these helps give us an idea of whether they will produce your products to the quality standards you expect. It helps identify what kind of system they have in place and whether it is being followed.
Section #3: Incoming Materials Inspections
The third section focuses on incoming materials.
Is the supplier taking measures to assure raw materials conform to specifications? Are materials properly labeled, stored, and traceable? Are they kept in controlled storerooms to avoid theft, loss, and deterioration of quality?
The key thing here is that the factory has processes in place so that they can avoid using the wrong materials (whether plastic, metal, or wood). It's also important that materials are free of harmful substances.
Section #4: In-Process Quality Control
After incoming materials, we take a look at in-process quality control.
Are samples for the pilot run carefully reviewed by engineers and quality managers? Is the QC staff well trained and are there enough QC employees to meet the needs of mass production? Are international standards used to carry out in-process inspections?
Having proper quality control measures in place during the production process allows them to identify issues early so that they don't become a bigger problem later.
As a third-party inspection company, we conduct DUPRO inspections. The factory's own internal inspections should be conducted in a similar manner.
Section #5: Final Inspection
Aside from in-process inspections, the manufacturer should also conduct final inspections.
Does the quality control staff perform an internal final inspection of merchandise? Are international or other approved standards used? Are written formal inspection reports properly filed and traced to review the quality of products?
Asking these kinds of questions helps you determine how diligently a factory is checking their final products. This way, they can ensure your orders ship as defect-free as possible.
As a third-party inspection company, we conduct pre-shipment inspections for importers. The factory's own internal inspections should be conducted in a similar manner.
Section #6: Packaging
The next thing to think about is packaging.
Is the packaging area clean, well organized, and free of contaminants? Are there safeguards in place to prevent the wrong products from going into the wrong packaging or master cartons? Do workers wear gloves or other protective clothing to avoid contamination, if necessary?
It is important that products be free of dust and dirt, are stored so that they aren't affected by sunlight or moisture, and have all the appropriate shipping marks and date codes on them.
Section #7: Non-Conforming Materials
Another concern for importers is non-conforming materials.
Are non-conforming materials or products being properly identified and segregated at all stages of production? Is scrap metal handled satisfactorily? Is the overall policy of treating non-conforming materials effective?
These types of questions are important because products can pick up defects on their way through the manufacturing process. They should be separated out as soon as possible to ensure the quality of each purchase order.
Section #8: Communication, Documentation, Control, and Work Movement
The eighth section focuses on communication, documentation, control, and work movement.
Do factory management and key staff understand and speak English sufficiently to enable direct communication with customers? Is there an adequate and formal system for receiving purchase orders, tooling, and equipment? What about a system for receiving and applying drawing, procedural, or design changes correctly?
Depending on your business and your communication requirements, different things may be necessary. But, in general, smooth communication is important.
Section #9: Handling of Complaints
The handling of complaints is another key thing we look at.
Are customer complaints handled by management? Does the factory have a formal process for handling customer complaints? Are complaints analyzed for their root causes?
Knowing that the supplier has a clear process for handling complaints and that it is documented ensures that customers are truly being listened to. These processes for handling feedback are essential.
Section #10: Score Calculator
The final section of the factory audit is the score calculator.
Based on the scores of all the previous sections, a total score is calculated. Certain sections have a higher weight than others, but this can be customized according to your needs.
At Insight Quality, we sometimes add in additional environmental, social compliance, security-related, or other sections and tailor the weighting of each section to your needs.
Download the complete quality audit checklist below.
Factory Audit Checklist: Download it Now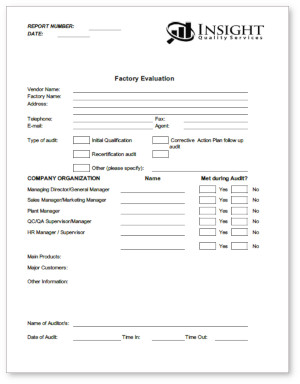 Insight Quality provides third-party auditing services in Asia, Europe, and North America.
We conduct quality audits like this one, as well as environmental, social, security and other audits.
Download this template to use as a resource for your own sourcing initiatives or contact us to help you conduct a third-party audit on your behalf.