If you've decided to import your products from China, Vietnam, or another emerging market, you are likely highly motivated by competitive pricing. It is crucial, however, that you do not neglect product quality. When working with a manufacturer on the other side of the planet, you often need to take extra steps to ensure they consistently produce to your quality standards.
But how can you guarantee that the factory will ship you quality products when you are halfway around the world? Imagine ordering a product based on a perfect sample, only to receive the shipment and discover it is full of defective items. Low-quality products can do irreparable damage to your business in terms of losses, product returns, and poor brand reputation.
Many successful consumer brands conduct product quality inspections while their goods are still at the factory to counter this risk. And there are several types of product inspection, but the most popular among them is the pre-shipment inspection, conducted once 100% of your goods have been manufactured, and they are about 80% packed.
Pre-shipment inspections allow you to catch any issues before shipping so that you can deal with them long before any substandard products reach your customers. An efficient pre-shipment inspection consists of 10 essential steps, as outlined in this article.
Before Inspection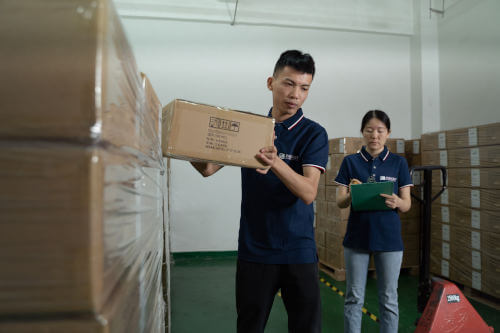 When you decide to carry out a pre-shipment inspection, you will most likely contract a third-party inspection company such as Insight Quality Services. The company will then assign you an inspector based on where your goods are being manufactured. Here is a flow of what to expect before the inspection:
Step #1- Inspector Travels to the Factory
The first step involves the inspector traveling to the factory where your goods are manufactured. They will have contacted the factory in advance to set a time and date and ensure that it will be ready for the inspection. Upon arrival, the inspector will usually meet with the sales manager in charge of your order before proceeding with the inspection.
Step #2 – Inspector Pulls the Sample (And sets aside items for special testing)
After the preliminaries, the inspector is now ready to pull the samples to be inspected from your goods. They will most likely follow a statistical sampling procedure like the AQL Sampling method to determine the number of pieces to examine in each batch/ carton.
During Inspection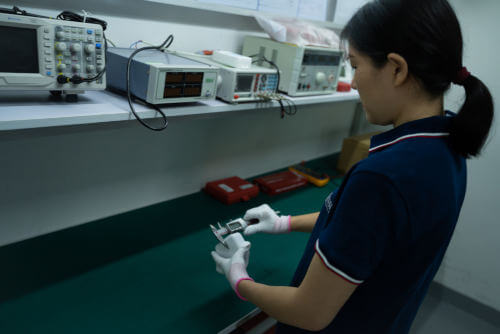 To ensure a thorough pre-shipment inspection, your inspector will be guided by an inspection checklist. This list tells them what to look out for during the inspection to ensure the quality of your products. With the inspection checklist in hand, they will then proceed to the third step.
Step #3 – Conduct Special Tests
Some products may require special testing to determine quality, depending on their functionality or unique attributes. For example, an electronic gadget might require an hour to charge fully, and the inspector needs to confirm its charging ability. In many cases, special tests can be time-consuming, so the inspector may start with these first.
Step #4 – Check Packaging, Labelling
As mentioned, pre-shipment inspection occurs when 100% of your products have been manufactured and they are about 80% packed. Unfortunately, even perfectly manufactured goods can arrive damaged due to insufficient packaging.
Mis-labelling can get you in trouble with the authorities in your country, resulting in costly delays. Therefore, your inspector must verify the packaging and labeling by confirming carton size, weight, markings, number of items in each carton, and sealing methods. They will also conduct a carton drop test and ensure barcodes are clear and legible.
Step #5 – Visual Inspection of the Product
The inspector will then visually inspect the selected samples for obvious defects such as missing screws or peeling paint. They will also be on the lookout for overall workmanship. Any defects found can be classified as minor, major, or critical based on the tolerance levels agreed upon beforehand.
Step #6 – Functional Testing
Functional testing involves practically using the product to confirm that it works as it should. For instance, if it is a dining table set, do the legs wobble or rock when you sit, or is it stable and firm? If it is an alarm clock, does it go off at the set time? If it is a garment, does the zipper work properly?
Step #7 – Check Physical Requirements
When you order a product from a factory in China, you will give them specifications for height, weight, length, and other criteria. One role of the product inspector is to ensure that the finished product meets these specifications. They may use tools such as tape measures and calipers to confirm the actual measurements.
Step #8 – Barcode Verification
Granted, the barcode is seemingly a tiny piece of the puzzle when it comes to shipping, but it can cause significant delays and problems if inaccurate. When scanned, the barcode should reveal the correct information about the product and its destination. As such, it should be precisely placed on the box and legible. Similarly, it should be of good print quality to withstand the rigors of international shipping and handling.
Step #9 – Carton Drop Test
A carton drop test will tell your product inspector whether the packaging used is strong enough to withstand dropping, piling, tearing, or rupturing during shipment. In most cases, the inspector will rely on internationally accepted carton drop test protocols such as ISTA 1A. Among other things, this protocol determines the height from which a carton should be dropped and how many times.
After the Inspection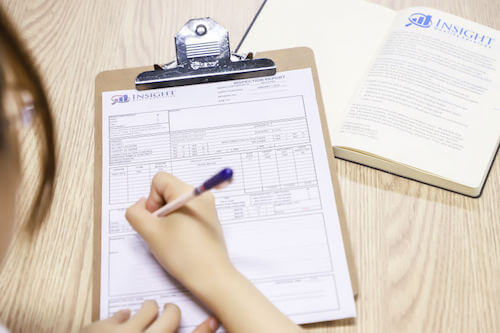 Step #10 – Finalize Inspection Report and Send
After completing the previous nine steps, the inspection company is now ready to issue a report based on its findings. Among other things, it mentions each of the tests conducted and their results. It also includes photos of any defects or areas of concern.
The report gives the shipment a pass, fail, or hold result, which will help you decide whether to accept or reject the shipment. It will also help you determine the next steps, and In some cases, you may require the factory to rework a percentage of the products.
A pre-shipment inspection is a powerful tool that can help you ensure the shipment of high-quality goods that not only meet your requirements but your customer's expectations as well. If you would like more information about our pre-shipment inspection services, please don't hesitate to reach out to us to discuss your needs.
Also, if you'd like to get a better idea of what a pre-shipment inspection report contains, download our sample QC inspection report.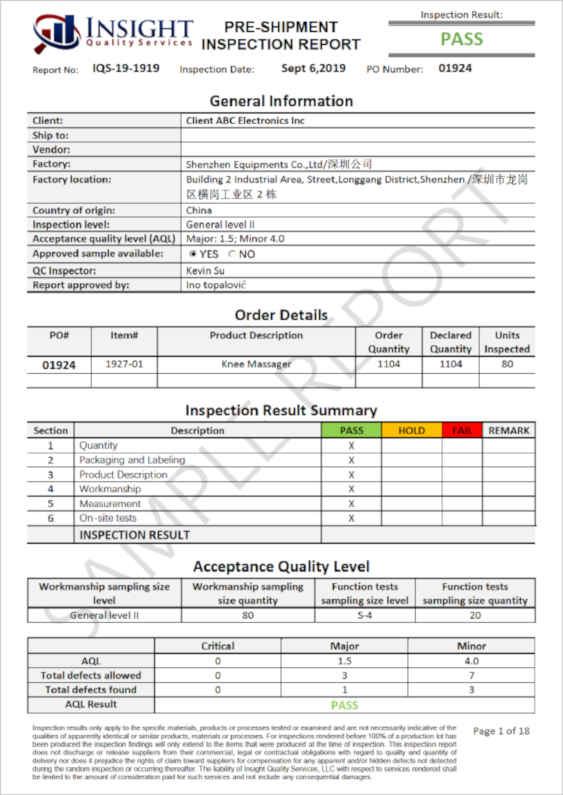 Download a Sample Inspection Report
Each time a product inspection is completed, we send you a report with the inspector's findings. This inspection report gives you key information about the condition of the lot inspected.
It shows the results of each check performed and includes a collection of photos taken by the inspector. The photos allow you to see the condition of the products and packaging exactly as they looked during the inspection.