AQL (Acceptance Quality Limit) is an important sampling method you'll use when conducting product inspections at your factory. So if you're making consumer goods and learning about AQL, you've probably seen the various inspection levels along the top of the AQL chart.
You may have noticed the 'General Inspection Levels' at the upper right-hand corner of the chart and might have wondered what they are. These levels play a vital role in determining the sample size for your inspection. To learn more about how the General Levels work, read on.
What are the General Inspection Levels in AQL?
The General Inspection Levels determine your overall sample size for a quality inspection (i.e., how many units your inspector will check). There are three General Levels (I, II, and III); Level I gives you the smallest sample size, and Level III gives you the largest sample size.

For example, let's say you ordered 1,300 USB hubs and want to inspect them at the factory. If you choose General I, the inspector will check 50 hubs, but if you opt for General III, they'll inspect 200 hubs. You could also pick the middle option (General II), and the inspector will check 125 hubs.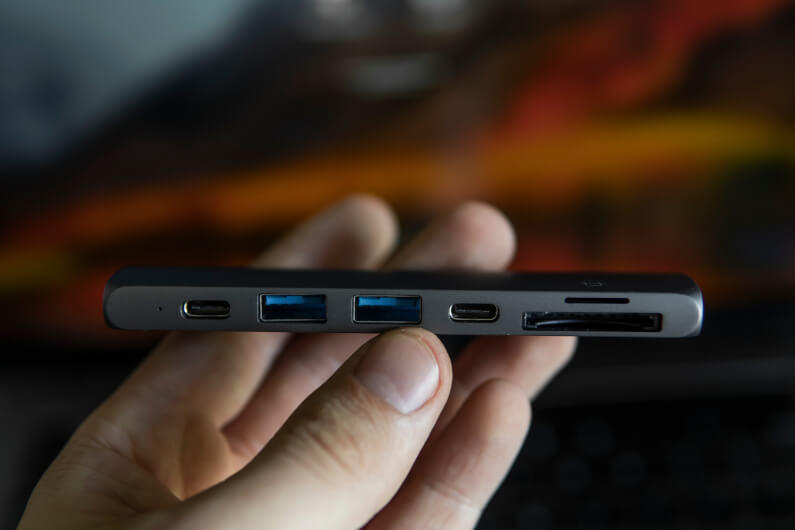 Whichever General Level you choose, you will likely use it in conjunction with the Special Inspection Levels. For now, let's talk about each of the General Levels in more detail.
General Inspection Level I

If you choose General I, you'll inspect fewer units than if you'd chosen Level II or III. This means your inspection will take less time and might be less expensive since it takes fewer hours to complete. However, inspecting fewer units will lead to less confidence in the inspection result.
You should only choose Level I if you've already worked with your factory for some time. Once they've produced consistent results and earned your trust, you can choose to inspect fewer units.
General Inspection Level II

General II is the best starting point for most companies. It should be the default choice when conducting your first inspection with a factory. Once you've completed many inspections, you might consider adjusting it.
For example, if the factory has performed well and consistently passed inspections, you could drop down to Level I. On the other hand, if they've given you sticky quality issues, you could push it up to level III.
General Inspection Level III

General III will give you the largest sample size on the AQL chart. It gives you more confidence in the inspection result. However, the inspection will take more time to complete, and your quality control expenses might go up.
You can consider using General III if you are working with a brand new supplier that you're hesitant about. Or, if you are working with a long-term supplier and they've given you too many quality issues, you can use it until the problem is rectified.
Which General Inspection Level is Appropriate for Your Situation?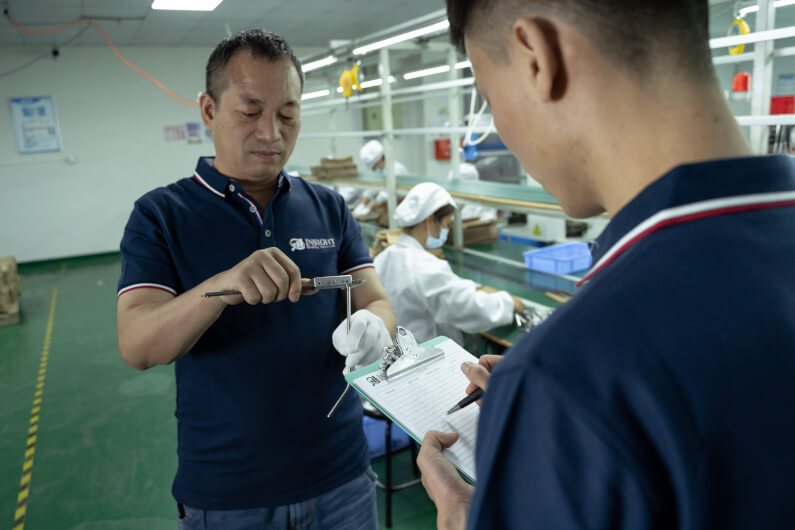 Choosing a General Level affects statistical confidence in your inspection result and can also impact your costs. As mentioned above, General II is typically the default choice.
If your supplier has consistently done an excellent job, consider moving down to General I. And if you've had frequent quality issues or are working with a new supplier that you're unsure of, consider moving up to General III.
We've put together an article that covers how to choose the right AQL and inspection levels in more detail. If you'd like specific guidance regarding your situation, please reach out to us, and we can provide our recommendations.
How to Determine Your Sample Size Using the General Levels
To determine your sample size, you'll first need to know your lot size (usually the order quantity) and choose your General Level. Then, find the place where they intersect on the AQL chart. For example, if you placed an order for 3,500 units and chose General Level II, your code letter on Table 1 would be 'L,' as we can see in this image.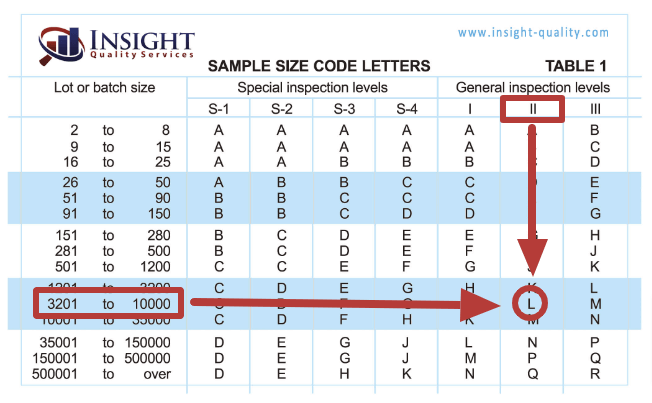 In Table 2, we can see that your sample size for the inspection is 200 units.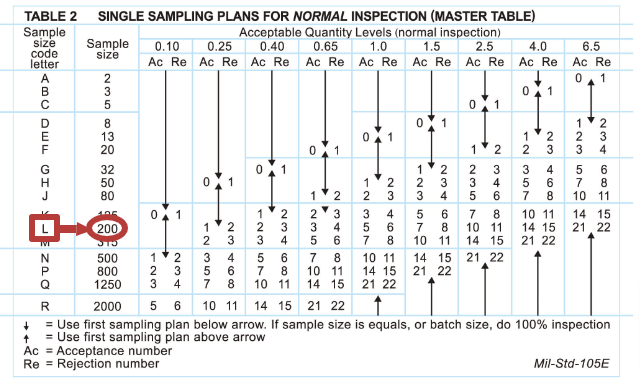 With your sample size out of the way, you just need to choose your AQL percentages for minor, major, and critical defects, which we cover in our How to Use AQL article and our AQL 101 guide.
What About the Special Inspection Levels?
You can use the Special Levels in conjunction with the General Levels. They give you an even smaller sample size than General I. Your General Level applies to the inspection overall. In contrast, your Special Level applies to any tests that might be destructive to the product, are time-consuming, or tend to yield similar results across the sample.
For more information, see our article about the Special Inspection Levels.
If you want to conduct a third-party inspection at your factory, reach out to us for a quote. And if you'd like a complete overview of how to use AQL sampling in quality inspections, we recommend downloading our AQL 101 guide.
Free Guide
AQL Inspections 101: How They are Conducted
Get a solid grasp of the AQL sampling method
Understand the AQL tables and how to use them
Work with your third-party inspectors more effectively
Note: This article was originally posted on July 29, 2021 and updated in February of 2023