AQL Special Inspection Levels: How Do They Work?
AQL is an important standard used in the quality control industry for conducting product inspections.
In a previous article, we answered the question, "What is AQL?" and explained how it works.
But, in essence, the AQL (Acceptable Quality Limit) standard helps you determine how many units to inspect in a given shipment and how many defects are required to trigger a "FAIL" result.
In that previous article, we provided an example that used "General Inspection Level II."
As a rule of thumb, General II is the level that most importers should use, most of the time.
But, when you take a look at Table 1 of the AQL chart, you'll notice that there is also a section for the Special Inspection Levels.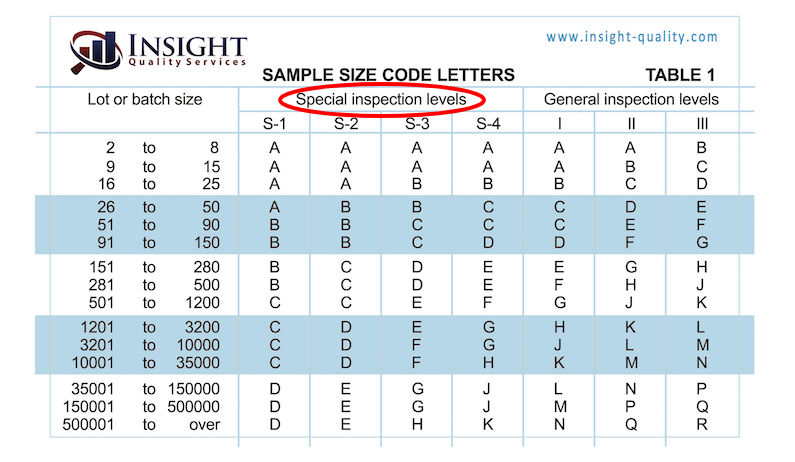 You may be wondering about the difference between the Special levels and the General levels and why you would use one over the other.
What is the Difference Between the Special Inspection Levels and the General Inspection Levels?
When looking at Table 1, the key thing to keep in mind is that the further you go to the left across the columns, the fewer units you are inspecting.
Conducting an inspection using the General levels will give you a larger sample size, while the Special levels will give you a smaller sample size.
For example, let's say you've placed an order for 2,000 electronic tooth whitening kits.
You are going to conduct a pre-shipment inspection and need to decide how many units to pull for inspection.
If you were to run your inspection at General Level II, your code letter (based on a lot size of 1,201 to 3,200) would be the letter K.
At Special Level S-1, your code letter would be C.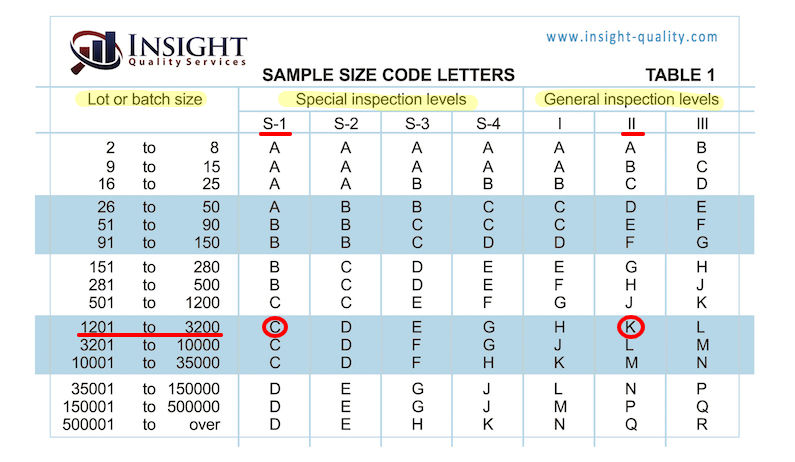 So what does this mean?
The code letter K will give us a larger sample size and C will give us a smaller sample size.
In fact, S-1 always gives us the smallest possible sample size on the AQL tables.
Whereas, if we go all the way over to General Level III, we will get the largest possible sample size.
When we go to Table 2 and apply our code letters, this becomes clear.
General II gives us a sample size of 125 tooth whitening kits to check during the product inspection, while Special Level S-1 gives us a sample size of only 5 kits.
So now you may be wondering what circumstances would justify using S-1 or one of the other Special Levels.
Why Would You Use the Special Levels During an Inspection?
During an AQL inspection, your inspector will check a number of different items that you've determined are important on your inspection checklist.
You will work with your inspection company to set an overall level for the inspection, most often General II.
But certain tests on the inspection checklist might warrant using the special levels, in which case you would make some adjustments to your sampling plan.
Checks that warrant using special levels are generally those that:
Are destructive to the item being checked
Are expensive or time-consuming to conduct
Tend to yield similar results across all items in the lot
Going back to our example of electronic tooth whitening kits, some examples would be:
Destructive – Such as a drop test, in which the carton or an individual unit is dropped from a specific height multiple times.
Expensive/Time-Consuming – For example, a Sleep Mode test to verify that your product automatically shuts off after 30 minutes of inactivity.
Yields Same Results – Such as a carton dimensions check, where you are measuring the height, width, and depth of each carton.
For these items and other similar items, you might use S-1 through S-4, but for everything else, you would use General II.
Just keep in mind that whether (and how) you use the Special Inspection Levels will depend on the specifics of your product and how you choose to manage quality.
Summary: The General and Special Inspection Levels are Used Together to Control Product Quality
Once you have decided on all the items to include in your inspection checklist, you need to determine how many units of your product will be inspected.
The AQL/ANSI tables help you to accomplish this.
Most often, the General Levels are used to determine how many units to inspect overall.
But the Special Levels can be used to determine a smaller sample size for certain checks.
The Special Levels can be used for tests that are destructive to your product, expensive or time consuming to conduct, or tend to yield the same results across all items.
You should work collaboratively with your third-party inspection company to determine which checks should be conducted at the Special Levels.
For more information about the AQL system, we recommend reading the following white paper.
Free White Paper: AQL Inspections 101
As a consumer goods importer, the quality of your products is key to your success. Good quality products will earn you favorable reviews and repeat purchases. Thus, product inspections are important. AQL determines the sample size for your inspections and understanding it is important. Having a good grasp of this method allows you to work with your third-party inspectors more effectively. This white paper will teach you all the basics of the AQL method.
Note: This article was originally published in September of 2016 and was updated in September of 2019.