Are you concerned your manufacturer may not always produce apparel that meets your standards? Do you want to verify they've made your clothing with minimal defects before shipping an order?
Managing quality and compliance in the apparel industry can be challenging. Garment production is labor-intensive, so there is more opportunity for human error. Of course, any reputable factory you work with should have internal quality control measures. However, implementing your own quality control can help you get better results from suppliers.
As a third-party QC service provider, we have conducted countless garment tests and inspections and helped brands manage product quality. Here, we share our tips on implementing effective quality control procedures to meet your customers' expectations.
Quality Starts With Your Tech Pack and Tolerances
To manage quality well, you must first provide clear and specific instructions to your manufacturer. Without specificity, you are less likely to get what you want since you give them more wiggle room to produce something you may not be happy with. This is where your tech pack and tolerances come in.
Your Tech Pack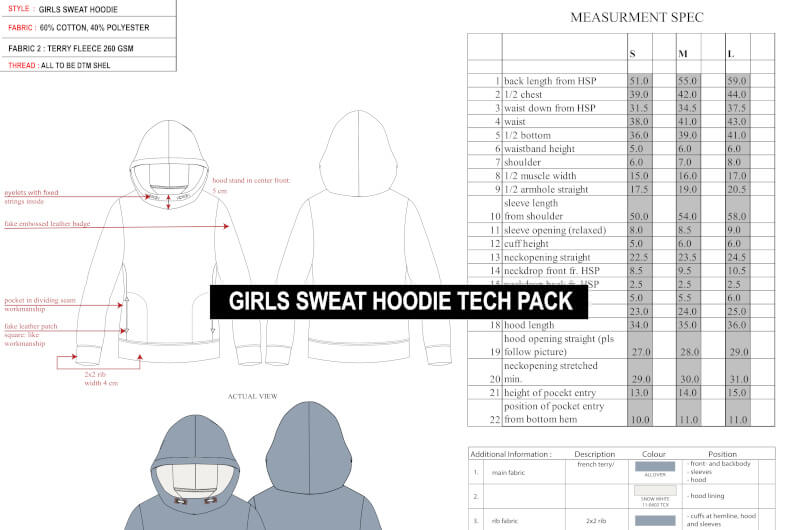 A tech pack is essentially a blueprint created by your designer, with instructions for the manufacturer to use during production. According to Belinda Jacobs of Techpacks.co, it contains various essential elements. They include "flat sketches, material specifications, dimensions, instructions, and everything else the factory needs to create your product accurately."
A tech pack might be divided into sections, such as:
A lead sheet or cover sheet
Bill of Materials (BOM)
Specification of measurements
Callouts indicating design details
Seam and stitching specs
Color specifications
Fabric print details
Label sketches and placement
Folding and packaging diagrams
Not only are these product specifications useful to your manufacturer, but they're also helpful to your quality control inspector. Suppose you send a QC employee to the factory or hire a third-party inspection service like Insight. In that case, they can compare the finished garments to your tech pack specifications to verify accuracy.
Your Tolerances

Whenever your inspector measures an armhole, waistband, or sleeve opening, chances are it won't be perfectly accurate down to the nanometer. There is always some level of variance in manufacturing, even if it's a small one. The question then becomes, how much of a variance is acceptable?
To answer this question, it's vital that you set tolerances for your garments. A tolerance is a range within which a particular measurement can vary. For example, you might decide that a chest width measurement can vary by ±0.25 inches and sleeve width can vary by ±0.1875 inches.
You can set tolerances based on the length of the measurement, as seen above. Alternatively, you can set a specific tolerance for each measurement of the garment. For example, you might set individual tolerances for the chest width, midsection width, bottom width, and others.
Your tech pack and tolerances together form the basis of your quality standards. Next, let's talk about how we will use them for the garment inspection process.
How do You Conduct Inspections?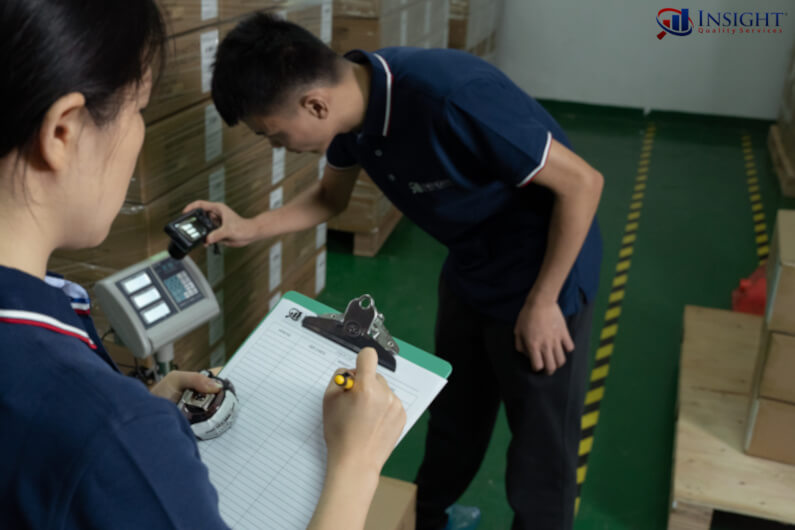 When planning an inspection program, the first thing to decide is who will conduct the inspections. A member of your team might go to the factory, or you can hire a third-party service provider (like Insight) that operates in the country.
You also need to decide when to inspect — whether at the beginning, middle, or end of the production process. Typically, companies choose to conduct pre-shipment inspections, which occur at the end of production. Once production is 100% finished and the goods are at least 80% packaged, the inspector travels to the factory.
An inspection is divided into tasks, such as assessing workmanship, taking measurements, on-site tests, and packaging and labeling checks. These checks all go into your garment quality control checklist. Let's talk about each of them.
Assess Garment Workmanship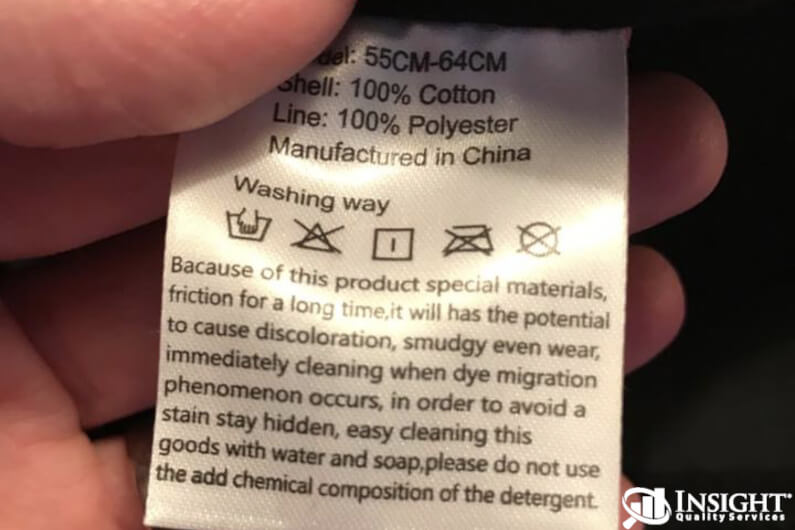 Your inspector needs to assess various aspects of workmanship. For example, they might:
Check the washing label's position
Assess the washing label's quality
Verify the label contains the correct information (See above)
Examine sewing or knitting quality
Look for the appearance of dirty marks
Check for long or loose threads or slipped stitches
Assessing workmanship helps you ensure that the wearer will be satisfied with the garment when they receive it.
Take Garment Measurements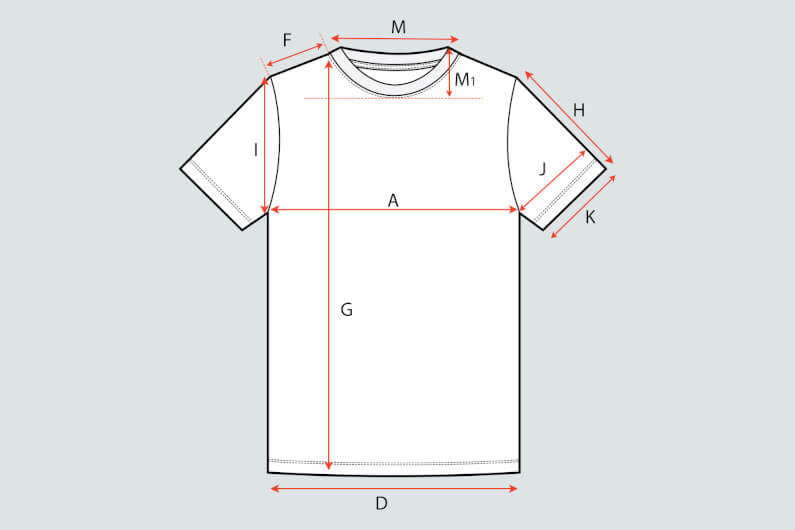 The quality control professional should use measuring tape to take key measurements. For example, these might include:
Full garment length
Sleeve length
Chest
Waist
1/2 Bicep
1/2 Cuff Opening
Etc.
By measuring the garment, the inspector can determine whether it is in line with your tolerances.
Check Packaging and Labeling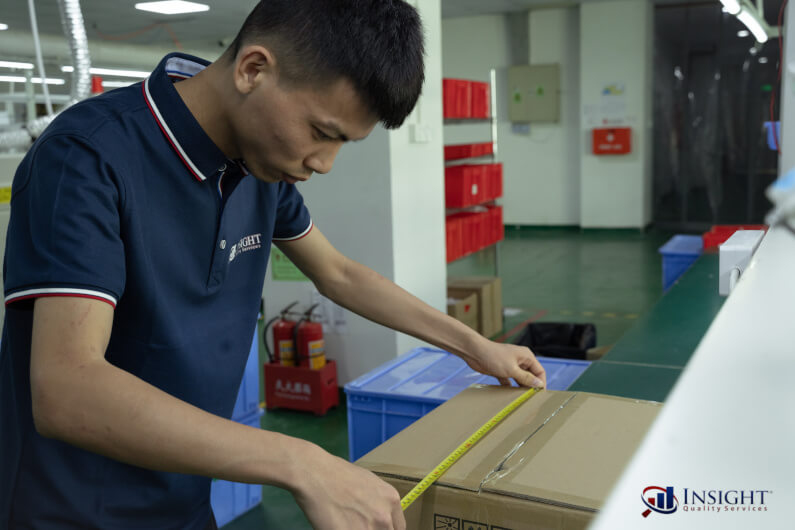 Your inspector should check the packaging and labeling. For example, they might verify:
Carton is of the appropriate type and thickness
Carton dimensions match your specifications
Labels match the product inside
Item numbers and barcodes are accurate
These checks help ensure cartons are suitable for the shipping journey and that they are routed and handled correctly.
Other On-Site Tests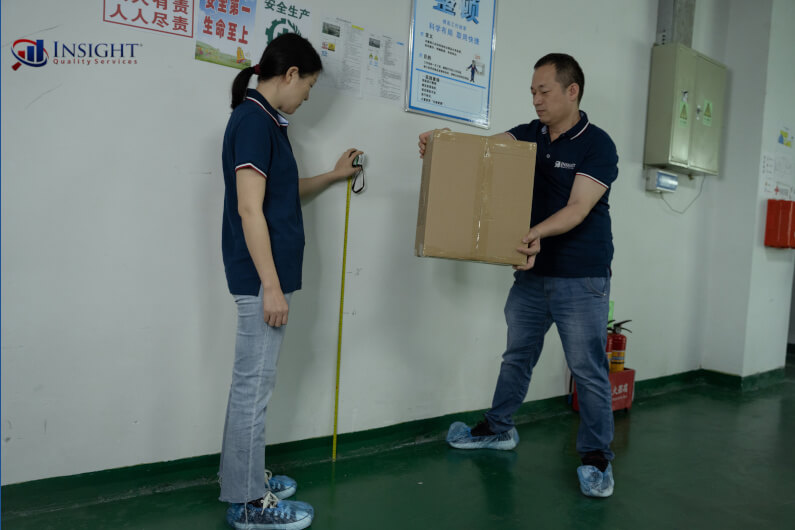 Depending on the specifics of your product and packaging, you may want to conduct other simple tests. For example:
Measuring hang tags
Measuring logos on clothing
Checking carton weight
Verifying product weight
Stretch testing straps or elastic bands
Pull testing zippers or buttons
Fatigue testing a button or zipper
Over the course of many inspections, you may encounter new issues you haven't seen before. In this case, you can add new checks to your quality control procedures to catch them if they happen again.
Inspections allow you to assess the quality of selected garments in a shipment. However, they cannot catch everything, so laboratory testing also plays a vital role in quality control and compliance.
Lab Testing Textiles or Apparel for Safety and Performance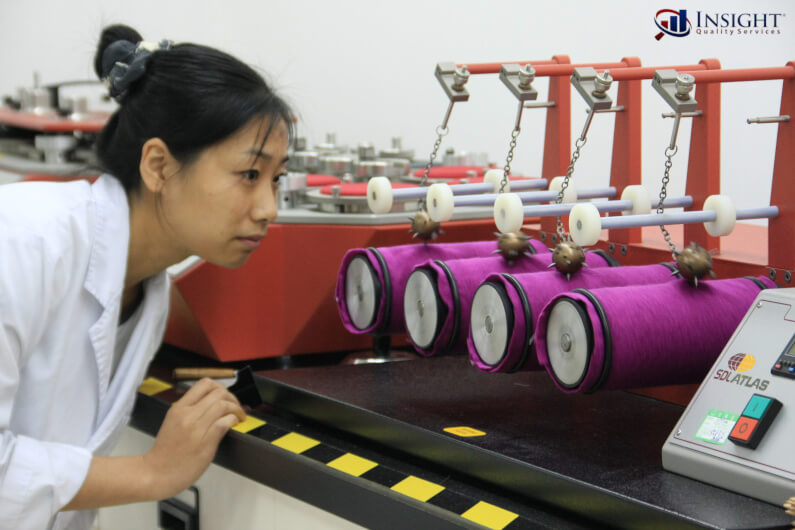 Aside from checking the quality of your goods, it is vital to consider their safety and compliance with regulations. For example, in the US, all garments must meet federal flammability standards. And children's garments are required to comply with a regulation called CPSIA.
Failing to comply with regulations can lead to fines, recalls, and safety incidents. So you must first understand the rules that apply to your products and then have them lab tested for compliance and safety, if applicable.
Sending garments to a testing lab can also help you assess their performance. You can test them for colorfastness to washing, crocking (rubbing), light, perspiration, or water. The lab can conduct piling tests, do fiber analysis, test for flammability, and more.
A complete apparel quality control and compliance program consists of both inspection and lab tests. So be sure you are familiar with relevant regulations in your market, and if you are making claims about the quality of garments, consider backing them up with performance tests.
Get Help From Insight Quality Services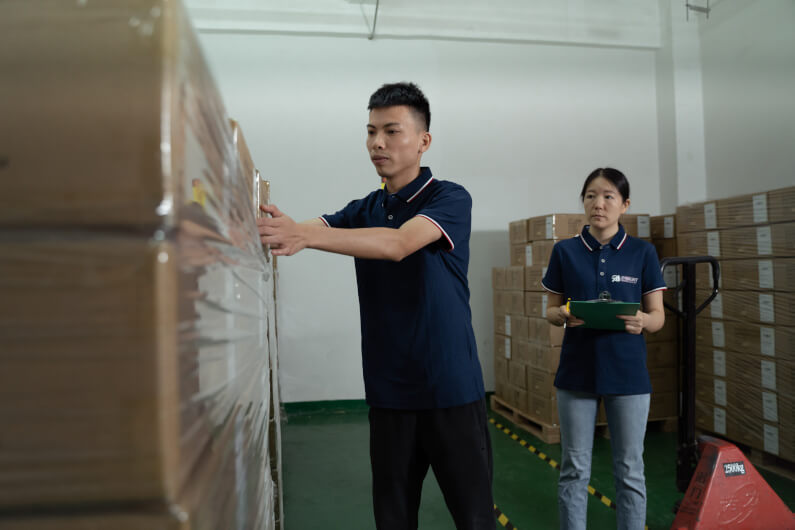 At Insight, we've helped countless companies inspect their garments at the factory and conduct lab tests. Learn more about our quality control services for garments and textiles, and contact us if you have any questions or would like a quote.
To learn more about how to prepare for a product inspection, we recommend downloading the following guide.
Free Guide
How to Prepare for an Inspection
Are you thinking of hiring a third-party inspection company? If so, you need to be properly prepared. No one knows your product better than you do. So, make sure you give your service provider the information they need to ensure that your inspections are a success. Download this free guide to successfully preparing for your product inspections.
Note: This article was originally posted December 12, 2019 and updated in April of 2023