At Insight Quality, we've been writing about inspections and quality control since 2014 and have posted nearly 100 articles with tips and suggestions to help you ensure the quality of your products.
While we've posted a number of articles about how to get the most out of your quality inspections, today we're taking a higher-level view to talk about what quality inspections are and how they work.
So, for newcomers to the world of quality control, we'll start by answering a very basic question…
What is a Product Inspection?
And then for importers who already have this basic knowledge…
We'll go a bit deeper into the specifics of how inspections work and provide some links to related resources.
We'll talk about:
The different types of inspections,
The inspection checklist,
The inspection reports that you get after an inspection,
The statistical methods that make inspections work, and
The differences between inspections, lab tests, and audits.
Having a complete understanding of these topics will better prepare you to work with your inspection services company and get great quality out of your factory.
So, let's get into it.
What is a Product Quality Inspection?
When you're making consumer products at a factory overseas, it can be hard to judge the quality of your products before you actually receive them.
So, third-party companies (Like Insight) help you get a look at the condition of your products while they're still at the factory. They'll send inspectors to check on your order before, during, or after production.
The checks are performed to help verify whether the products meet your quality requirements, are in compliance with regulations, and meet any relevant product safety standards.
Here you can see some furniture pieces being lined up for inspection…
It's important to realize that factories make mistakes (and some make more mistakes than others).
Inspections help you catch issues early, so that you don't receive a shipment that falls short of your standards. Because the earlier you can catch an issue, the less costly it becomes to deal with.
Recently, a company that makes topical anesthetic cream had to recall over 26,000 units they had already sold because their packaging didn't meet child-resistant closure requirements.
They had to ask consumers to place the bottles out of the reach of children and then provide refunds or replacements.
Had they caught the issue ahead of time, it would have helped them maintain a more positive company image. They also would not have to go through all the headaches and expenses involved in fixing the issue after the fact.
The goal of quality inspections is to help you avoid these kinds of scenarios. And there are different types of inspections that you can hire a third-party company to conduct.
What are they?
#1 The Key Types of Inspections You Should be Aware Of
The most common type of quality inspection we perform is called a PSI or Pre-Shipment Inspection.
These are also referred to and Final Random Inspections. And, although they are the most common, there are other types of inspections you should be familiar with too.
Each type of inspection happens at a different point in the manufacturing process. We'll look at them in order.
1) Before Production: Pre Production Inspections (PPI)
These inspections are conducted once raw materials have been received by the factory. They can help you to verify that the materials being used meet your standards. They can also be done to help you check a prototype or ensure that the factory is ready for production.
2) During Production: During Production Inspections (DUPRO)
These are conducted once 20% of your products have been completed. Conducting inspections at this early stage allows you to identify issues sooner. It also helps you to avoid delays later on in the process. If you're producing large volumes or are in a time crunch, these can be ideal.
3) After Production: Pre-Shipment Inspections (PSI)
These are the most common inspections that importers hire us to conduct. They are done when 100% of your products are complete and at least 80% are packaged. They allow you to verify quality and ensure that the finished products are up to your specifications before they are shipped to you.
4) At Time of Container Loading: Loading Inspections (LI)
Once your products are 100% produced and packaged, they need to be loaded onto a container for shipping overseas. These inspections help you to ensure that the correct products are being loaded, to verify the condition of your products at the time of loading, and to ensure your suppliers are following any loading plans you've set.
5) After You've Discovered an Issue: Sort Inspection (SI)
What happens if you discover an issue that affects a significant percentage of your units? Conducting a sort inspection allows you to separate out any defective units and get an exact count of the good ones. This way you can move forward with only the acceptable products.
Understanding these 5 types of inspections puts you in a better position to choose the right one for your situation.
But how are inspections actually conducted?
#2 The Importance of an Inspection Checklist
When you hire an inspection services company, they don't just waltz in straight away and start checking your products.
First, they need a quality inspection checklist.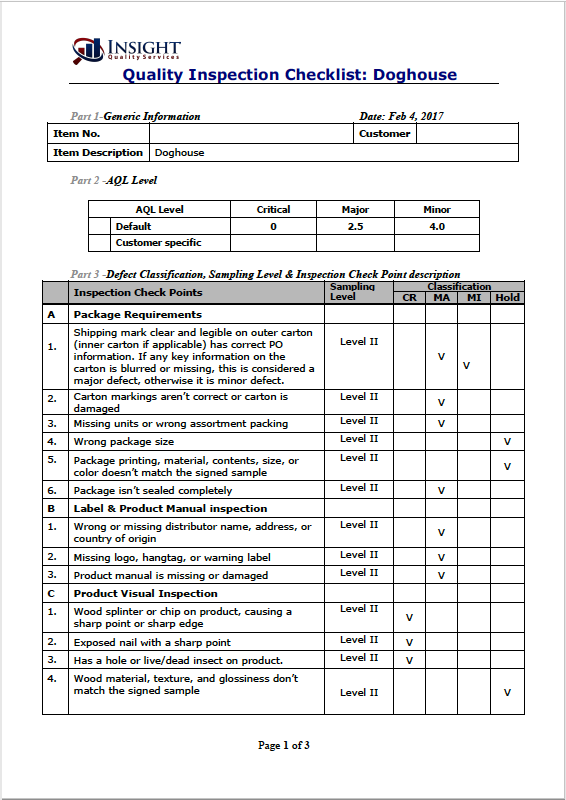 The inspection checklist contains all the details that guide the direction of the inspection. It covers areas such as proper packaging and labeling, functional testing, verifying physical requirements, and carton drop tests.
And it's really important, when you hire a company like ours, that you get your inspection checklist right.
This is something you can create in collaboration with the service provider. But you need to realize how important it really is to understand your products well. Ultimately, it falls on you to make sure that your checklist covers every aspect of product quality.
We've provided some guidelines and a sample here.
Make sure you understand the inspection checklist and then work with your service provider to ensure it's comprehensive. Remember that this document can also evolve over time.
After using your checklist to conduct the inspection, the inspector will put their findings into an inspection report.
What should you know about these inspection reports?
#3 Become Very Familiar With Your Inspection Reports
Inspection reports are what your QC service provider will give you after they have conducted an inspection.
They will provide a result of either PASS, FAIL, or HOLD.
Recently, we talked about the HOLD result and what you need to know about it. The PASS and FAIL results are a bit more straightforward, but HOLD can be a little trickier to navigate.
Aside from the overall result of the report, you'll also see the results of each check the inspector has performed. They will provide photos of each check as well, so you can get a clear picture of the condition of your products at the factory.
Reviewing your inspection report thoroughly is important, and once you've finished doing so, you will decide whether you need to work with your factory on taking any corrective action.
Do not rush your review of this report, even if it doesn't FAIL. It can give you key insights into what's happening with your supplier.
Also, collecting and aggregating inspection report data over time can be very useful in helping you to make decisions regarding your supply chain.
Part of really understanding the results of your inspection is understanding the statistical methods that determine those results.
#4 Understand AQL, the Statistical Method Behind Inspections
Any credible inspection company will use an international standard for inspections called AQL.
AQL stands for Acceptable Quality Limits, and it is used to determine how many units an inspector will look at, as well as how many defects it will take to trigger a FAIL result.
We wrote a white paper on the subject…
But, in essence, there are different ways of classifying defects. The three types of defects are major, minor, and critical. When you are developing your quality standards and creating an inspection checklist, you will need to define these.
In a standard inspection, you will generally have the following limits in place:
Major Defects = 2.5% maximum
Minor Defects = 4.0% maximum
Critical Defects = 0% maximum
Major defects are those that make your item unsellable, while minor defects only deviate slightly from your specifications. Critical defects are those that can be harmful to consumers.
If more than the above percentages are found, your order will fail inspection.
So, look into AQL and understand it the best you can. That way, you will fully understand the results of your inspection.
Now, aside from inspections, there are other things you can do for quality assurance and quality control.
You may have heard of audits or lab tests.
#5 Inspections vs. Audits vs. Lab Tests: What's the Difference?
We've talked about inspections above. So, hopefully you have a good understanding of what they are and how they work.
What's the difference between audits and inspections?
While inspections help you to check on products while they are still with your supplier, audits are something you can do before you even have a supplier.
There are different types of audits, like Capability Assessments or Quality Assessments.
These audits help you determine whether a supplier has the resources in place to produce your product or to assess their overall management and quality practices.
When you're trying to find a new supplier, these can be very helpful in making your decision. After you've chosen a supplier, you can then use inspections to make sure they are on track, from a quality perspective.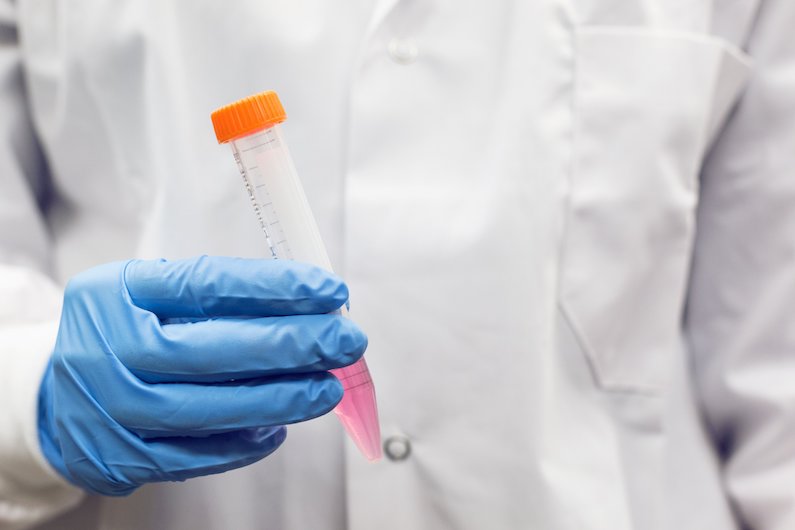 Another way to help control the quality of your products is through lab tests.
These can help you check the raw materials that are going into your product. They can also tell you whether they have hazardous chemicals that violate regulations or pose safety risks.
These are things a normal inspection can't catch.
But by sending raw materials or product samples to a lab, their quality and safety can be verified.
Summary
Hopefully, by now you have an idea of what inspections are, how they're conducted, and the differences between audits, inspections, and testing.
Understanding these things puts you in a better position to ensure the quality of your products and to work effectively with your quality control services vendor.
Remember that the products you create represent your brand in the eyes of the consumer. Inspections play an important role in helping to control quality, so you can maintain a positive brand image.
If you're thinking about conducting inspections, we recommend you download the following white paper.
Free Guide: How to Prepare for an Inspection
Are you thinking of hiring a third-party inspection company? If so, you need to be properly prepared. No one knows your product better than you do. So, make sure you give your service provider the information they need to ensure that your inspections are a success.
Download this free guide to successfully preparing for your product inspections.